The BIG GAME is a UK LAN party based in Southampton, Hampshire - started in 2000 by putty_thing (our fearless leader). BIG GAME LAN parties happen every 3 months or so which routinely sell out each time! 
LAN parties (if you arn't sure!) are events where people bring their computers to a public location and plug into a Local Area Network (LAN). Once connected to the network, you can interact with each other in order to play multiplayer games. This approach has many advantages over Internet gaming including ultra low-ping connections meaning that games will not lag, cheaters are kept at bay and most importantly you'll experience a great social atmosphere where you can chat to (and shout at) the people you're playing against / killing you!
All sorts of games are played at the BIG GAME including first person shooters (FPS) like Quake 3, Battlefield and Call of Duty. Strategy (RTS) games like Dawn of war 2, Command & Conquer, Homeworld and Company of Heroes. MOBA's (Multiplayer Online Battle Arena) like League or Legends and DOTA2. There are no limits on what you can play, so whether you fancy taking on a Zombie horde in Left for Dead or tackling the tightest of turns in Trackmania with the average event attendance in excess of 80 gamer's, there are plenty of gamer's who will like the same games you do, however new or old!.
At the BIG GAME, we run one large multi-discipline tournament over the course of the weekend, consisting of all different gaming disiplines. So if you fancy yourself as a CS expert or a Quake master, racing prodigy or RTS overlord get some people together (a clan or party of merc's found on the day!) and enter a team into the tournaments. Prizes are normally on offer so it's worth doing. Check out the event tournament information page to see whats we are play at our next event!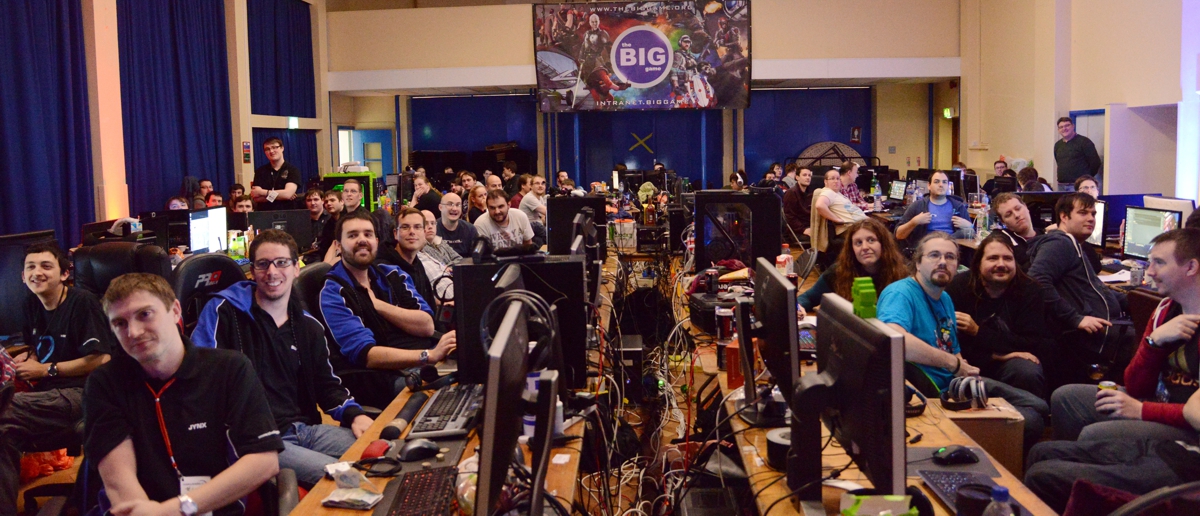 The events run over a three-day period, from 18:00 Friday to 18:00 Sunday night so there's plenty of time to play all the games you want to.The current record stands at Germany for the furthest travelled to the BIG GAME and we have regular attendants from Wales and northern England (but don't let that put you off ;).
The event is run by a team of 6 talented chaps! (the BIG GAME crew) who have been doing BIG GAME events for over 14 years (thats over 84 years of LAN experience!) and are very passionate about gaming and want to create the best atmosphere they can to make the BIG GAME the best lanning experience it can be. They are on hand all event (at any hour!) to help if you have a PC problems, network issues or any other problems (even if your just stuck on a certain level or boss!).
Basically, the event is for people who really enjoy playing multiplayer games in a friendly atmosphere with great hardware and enjoy a weekend of high quality gaming, tournament play and great prizes (not forgetting the Domino's Pizza and cupcakes!)
Check out the Frequently Asked Question section for more details on common questions about the event :)
We look forward to seeing you at the next one!